When I am cooking sweet and sour fish I used tuna, salmon or maya maya. But this recipe is for any kind of fish.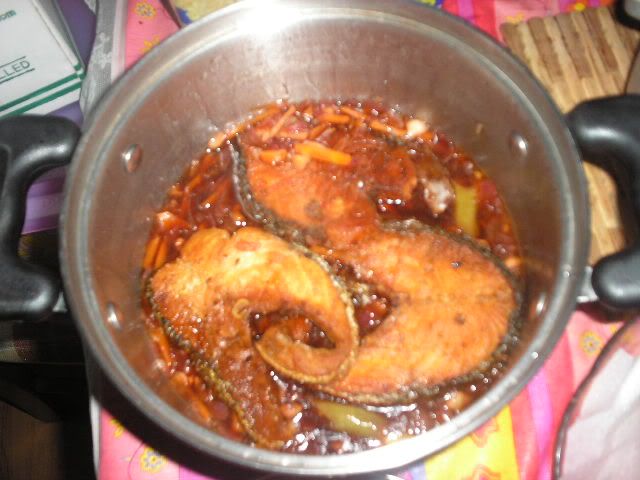 Anothe favorite of Anevay. Its mixed veggies with some cornstarch.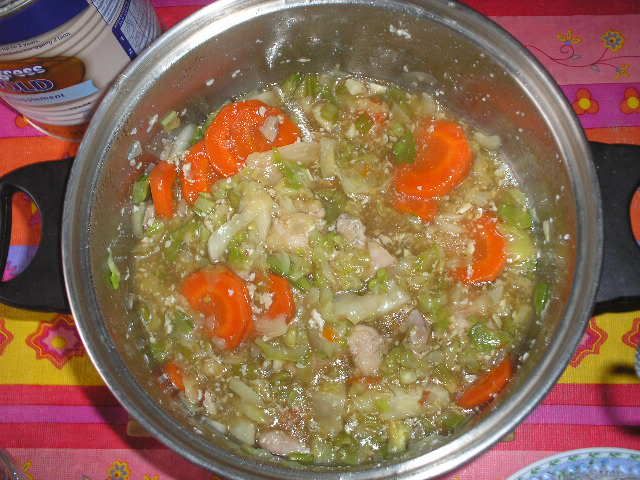 Here's how I prepare Chopsuey for Anevay. It's quite simple but families say its yummy.
Chicken meat, enough to add a taste to the Chopsuey ( since I am cooking for a one year old, i  deboned it and remove the skin and chopped it into tiny pieces). To make the chicken tasty, mixed it together with 1 tsp salt, 1 tsp cornstarch, 1 tsp soy sauce and 1 egg white. Usually if I only have small amount of chicken I would reduced the salt, cornstarch and soy sauce to 1/2 tsp. Then leave the mixture for a few minutes.
Saute garlic and onions and then add the chicken. Cook the chicken until its tender, then add the veggies (most of the time I only used cabbage(chopped into small pieces or grated) and carrot (julienne cuts) but if you like you can add celery etc) and add 1/2 cups of water. Dissolved 2 tbps of cornstarch into 1/2 cups of water and then pour it into the chopsuey your cooking. Add one tsp chicken  bouillon cube and 1/2 tsp sugar and 1 tsp soy sauce. Let it simmer on low heat.
 That's it!
As the name implies I got this recipe from Alaska recipe leaflet which was an add on in the November issue of YUMMY.
So here goes.
Ingredients :
2 cups diced bread                                      
1 cup Alaska evaporated filled Milk  ( the one in carton is equal to 1 cup)
1/2 kilo ground pork
1/2 cup chopped onions
2 tbps minced garlic
1/2 cup chopped carrots
1/4 cup chopped celery
1/3 cup chopped green bell pepper
1/3 cup chopped red bell pepper
1/2 cup grated cheese
3 tbsp flour
1 tsp salt
1 tsp liquid seasoning
a pinch of pepper
3 hard boiled eggs, halved or quartered
2 pcs jumbo hotdog
Procedure :
In a bowl, mix bread and evaporated filled milk with a fork. Blend in remaining ingredients except for hard boiled eggs and hotdog. Divide into three and place in a sheet of foil. Place hotdog and egg slice on top and roll like a log and seal ends by twisting the foil. You can also make these into a meatloaf by pressing half of the meat mixture in a foil lined loaf pan or leche flan mold. Place hotdog and eggs on top and press the remaining mixture over it and flatten top. Bake in preheated 350F or steam for 45 minutes or until top is firm.
WHAT I DID
I used the leche flan mold and put the mixture in the oven, after an hour or so, here is the finish product.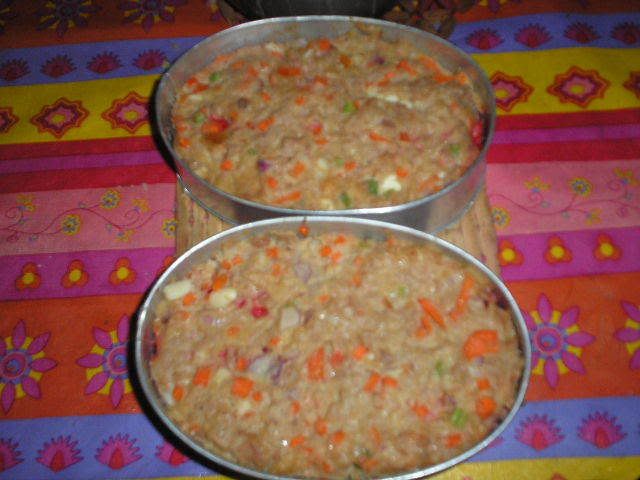 They all like it.
Sinigang is an all time favorite and a well known dish in the Philippines. This can be done to fish, pork or shrimp. And it's Anevay's favorite. If we eat out and we end up at Max's we will surely order their Sinigang.
At home, I usually go for fish or shrimp. Pork will be my last choice for health reason. And if its pork, I make it a point to cook it longer so that Anevay won't have a hard time digesting it.
During my childhood days, preparation of Sinigang is somewhat messy because you need to boil the tamarind and a lot of work afterwards.
But now, in the advent of instant products that you can use for cooking, tamarind are a thing of the past. You can buy either the sinigang sa sampalok mix of knorr or maggi. I prefer Knorr.
This is how I do it : Boil either the shrimp, fish or pork. And if its already tender add the sinigang mix. Let it boil. Then add the veggies.
Easy does it!
When feeding Anevay, I cut the meat and the veggies into small pieces. This will make sure that she eat a balanced meal.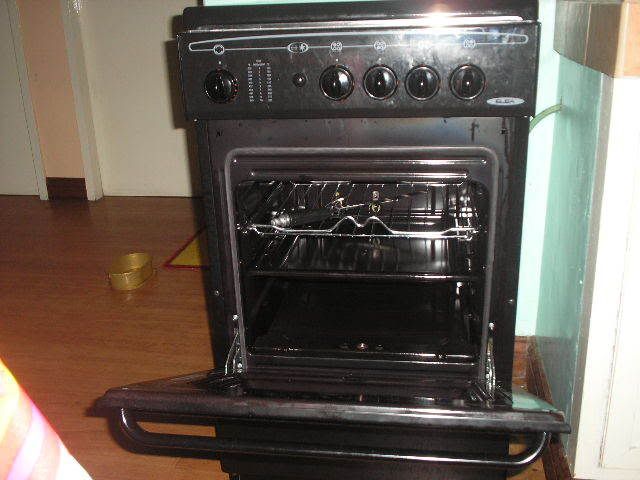 This oven has paved the way to my increase of interest in cooking and baking. Aside from the fact also that I am motivated by the thought that I wanted Anevay to eat home cook meals.
When we transferred to the house that we bought, hubby decided to buy a whole new set of appliances and this oven is a part of that decision. Before this oven, we have a stove which is now place on our dirty kitchen and being used for frying.
The oven is inside our house.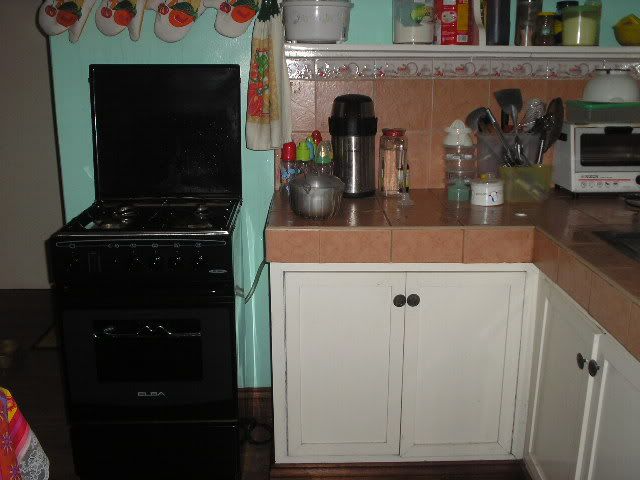 And I used it everytime I cook meals and do some baking. This way, I am doing two things at the same time. Cooking while watching over Anevay. And believe me its not an easy task. Most of the time, I find myself running after Anevay who climbs and jump on our sofa.
My very first set of purchase to start my baking are these.
Bought this measuring cup for Php 300+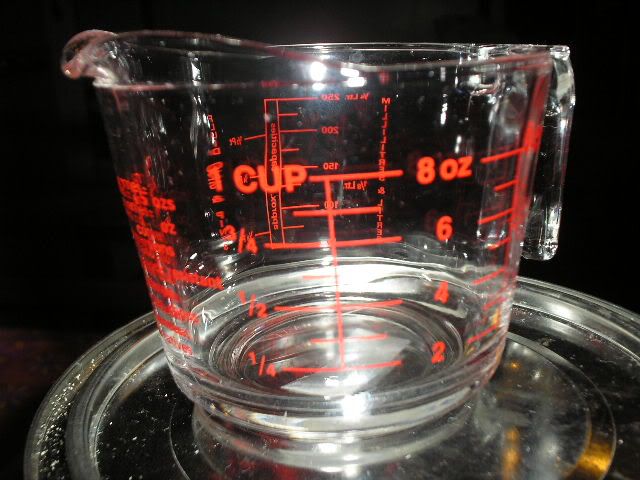 The set contains icing bag (?), spatula and measuring spoons for about Php 50+. It's a good buy actually since the measuring cup serves also as a toy for Anevay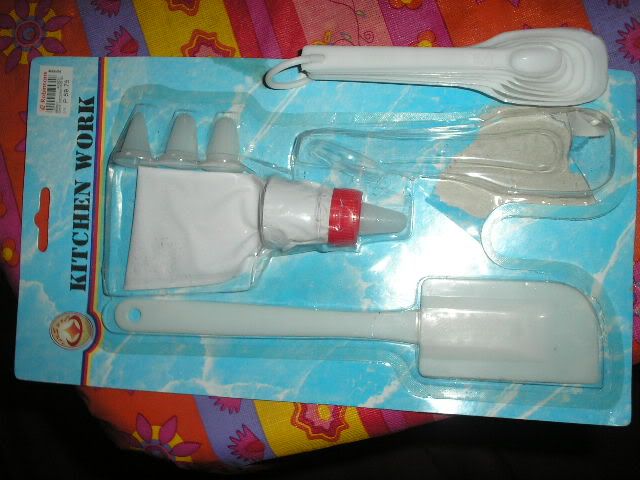 I bought this tray for Php 199.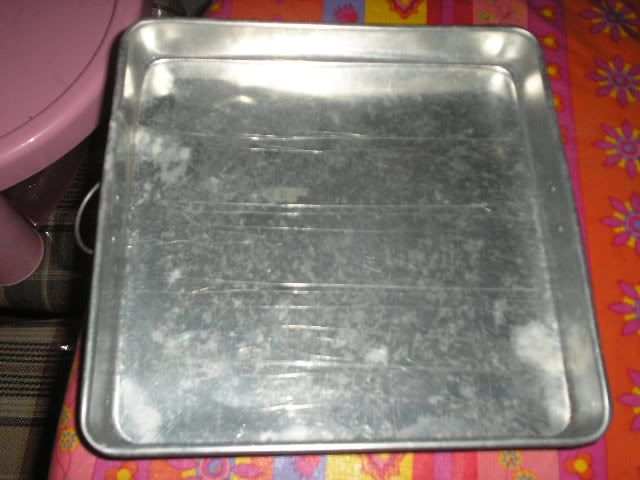 I haven't purchase this bowl but its a big help when mixing ingredients. It's part of the shredder that my sister gave to me some years back.
And do you know where did I used those ? I baked those ready to bake brownie mix from the supermarket. I am trying to test myself, if indeed I can follow baking instruction by starting on the easiest. Ready to bake brownie from Betty Crocker.
The brownie received praised but I was not that happy because I know it was not me baking. It's an instant formula. You only need to add some eggs and do the blending. But I tried the Maya Brownie Mix also.
To be happy, I know I needed to bake from scratch. Fortunately, I got hold of the September issue of YUMMY. As I browse through the pages of the glossy mag, I stumble upon the recipe of a BANANA COFFEE CAKE, which was prepared by a kid. Yap, a kid!
So I told myself if the kid can do it, then maybe (finger crossed) I can do it also. I bought some more utensils to help me bake the banana cake.
I bought a cupcake tray and some cup cake sheets. Also, to feel that I was really into baking, I bought a whisk.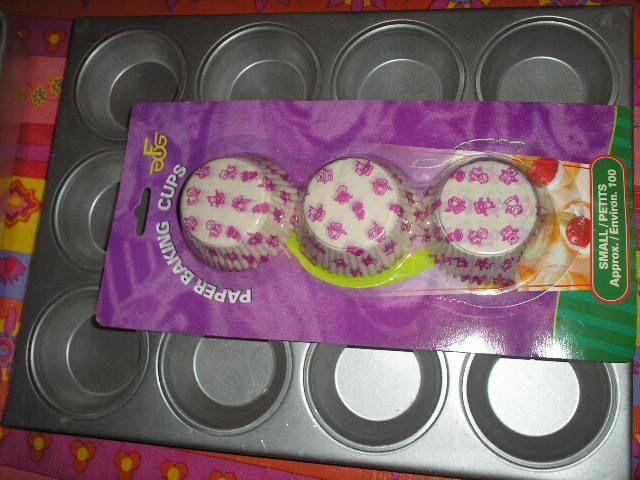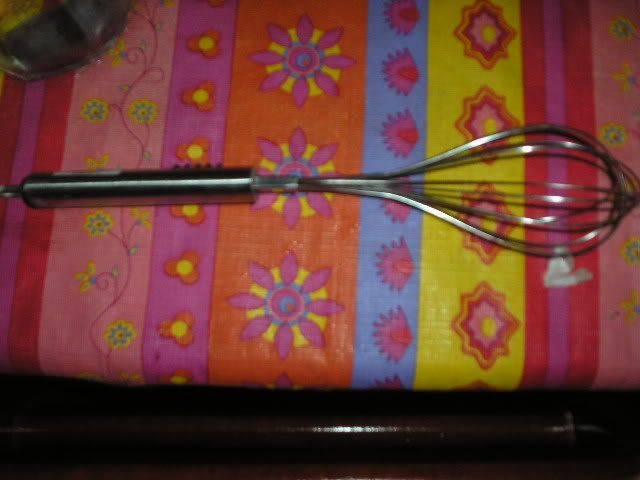 Following all the instruction I was able to successfully bake my first ever cake. Which may I say, last only for about 30 mins and its all gone. The princess was able to enjoy one!
And so from one successful baking story to another, I am now on my way to discovering one recipe to the next. I was able to bake some oatmeal cookies and I am now planning to go a little step farther by trying my hands on native delicacies.
My family have been supportive of my new found hobby. In fact, my sister is planning to order some oatmeal cookies from me which they will used as Christmas give away. Nope! I am not in any way making this hobby into business. Not yet. Not now. I am still on the learning process. And to motivate me even more, my sister got all those trays that mommy was using when she was still here.
When we went home to Pampanga, I was able to get loads of baking tray. From the square one, to the rectangular, to the cupcake tray and even a tray for the cake (I am glad on this find since I am planning on baking on a chocolate cake one of this days).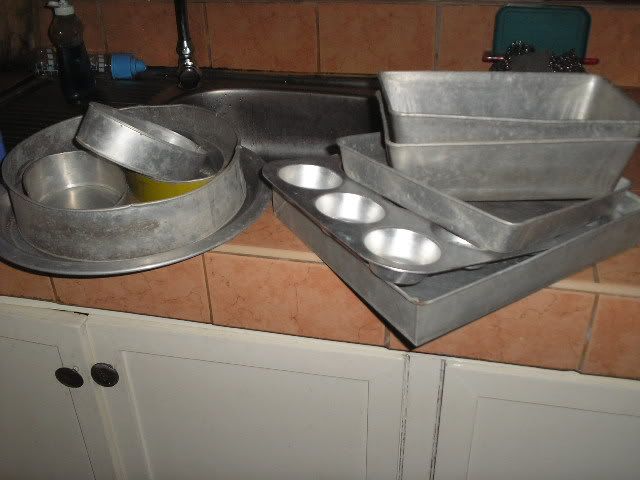 I haven't counted how many the trays are but this have save me a lot of money. And as a bonus, I was able to get some cute measuring cups.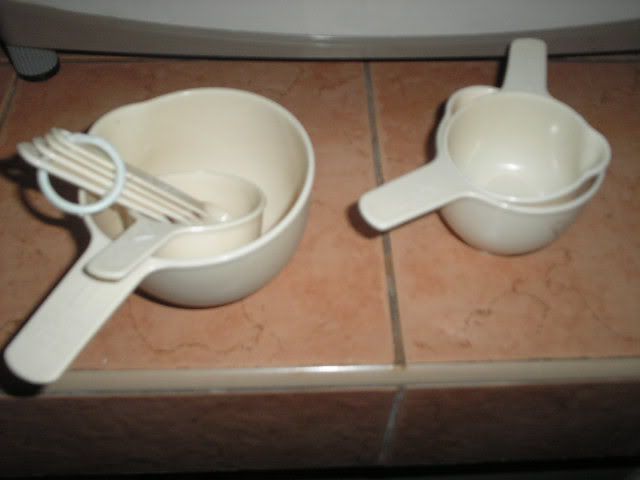 Talking about inheritance, eh?
I have always been fascinated by men and women who can come up with a delicious meal with anything they have on their fridge. That has been one of my dream.
I always look up on my mom who cook delicious meals, pastries and native delicacies. I told myself someday I am going to be like her.
I thought both will only be just  a fragment of my imagination. Until I become a mom and my husband bought me an oven when we bought our house. Actually I have been asking him about buying me one in the past but I was not an end all be all for me then. Yet, I was glad of the purchase.
Because that ELBA oven started it all! I am on my way to fulfilling those dreams little by little, one step at a time.
So be with me through my journey, as I collect recipes, try them and give a piece of my thought about how it went.