At long last, I have found the perfect recipe for an easy to bake lasagna. I have been searching the net for a long time now but I always stumble with recipes that have different kinds of cheese to use that I think they are way to complicated for me.
Presenting my LASAGNA.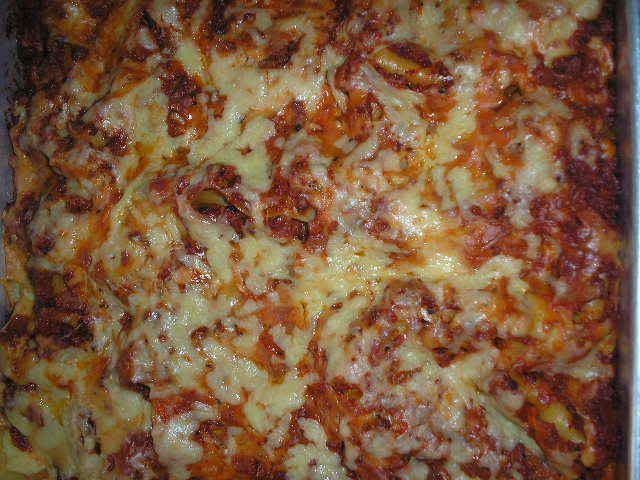 Luis love it! But there is one thing that I should have not done. Buy and used the no cook lasagna noodles. It was my first time to used it so I did not know when to determine if its cook or note. So some noodles ended up uncooked ;(
Yet, the two trays were consumed in no time. So that gives me a passing mark. Believe me I'll try this recipe again.
Ingredients
500gms lasagna noodles, cooked according to the direction
3 tsp butter
1/2 cups onions
3 tbsp garlic
1 tsp basil
1/4 tsp oregano
1/2 kilo ground beef
1 cup tomato paste
1 cup tomate sauce
1 cup water/stock
250 gms ham
salt and pepper
1/4 cup butter
1/4 cup flour
1 1/4 cups stock
1 1/2 cups evaporated filled milk
1 1/2 cups grated quickmelt cheese
Procedure :
Saute onions, garlic and herbs in butter. Add in beef and cook over medium heat until done. Mix in tomato paste, tomato sauce and stock and bring to boil. Simmer for 15 minutes. Add ham. Season with salt and pepper to taste. In another pan, melt butter and mix in flour. Whish in stock little by little to avoid lumps. Pour in milk and cook over low heat until thick.
Lay noodles in an oven-proof dish and top wit 3 tbsp of cheese followed by 2/3 cups of meat sauce then 1/3 cup of cream sauce. Cover with another pasta layer and continue doing this until the dish is filled. Top with more cheese if desired and bake until cheese is melted.
Source : Alaska leaflet from YUMMY Magazine January Edition.
One time while waiting for my turn for my check up in my rheuma's clinic, I browsed upon the magazines in the clinic. I saw a GOOD HOUSEKEEPING MAG Oct 2006, got it and read it. Since my GH collection only started mid of 2007.
And I was happy to see one recipe that I think I can do. I do not have any pencil or paper at the moment so I just type it on my cellphone. hahaha.
So here goes : (no pics sorry!)
Filling :
1/2 cup sugar
1/4 cup flour
3/4 cup fresh milk
3 ripe mangoes, chopped
1/2 tsp cinnamon
CRUST
1 cup brown sugar
1 1/2 tsp baking powder
1/2 tsp salt
2 cups flour
3/4 cup butter
1/3 cup fresh milk
1/3 cup chopped walnuts
Preheat oven to 350F.  Line a 9 inch square pan with wax paper. In a saucepan, combine the ingredients for the filing. Cook over low heat until mixture thickens. Set aside to cool. In a bowl blend brown sugar, baking powder, salt, flour and butter until mixture resembles coarse crumbs. Stir in milk and walnuts. Press 3/4 og the crust mixture in the baking pan. Top with mango filing. Crumble the remaining crust over the filing. Bake for 30 to 40 minutes or until set. Cool then cut into bars.
One time while I was preparing for a food ( i cannot remember what) I chose to buy Quickmelt cheese. When I open the box, I saw that their is a recipe of Baked Macaroni.
You see, I am not really into pasta. Although I wanted to bake lasagna or baked macaroni for a long time now, I cannot find simple recipe that I would be able to follow.
So I am happy to see that recipe. And happier because Luis, my greatest cooking critic ( my ten year old nephew who loves pasta, that he won't even complain eating pasta for months..hahaha!). Promise, this one is simple and YUMMY!
I prepared this for Luis birthday (that is TODAY) and even the husband who have told me he does not like BAKED MAC loves it too! In fact, they finished up the two trays that I baked. They meaning my older brother, LUIS (who consumed one try by himself) and my dearest hubby.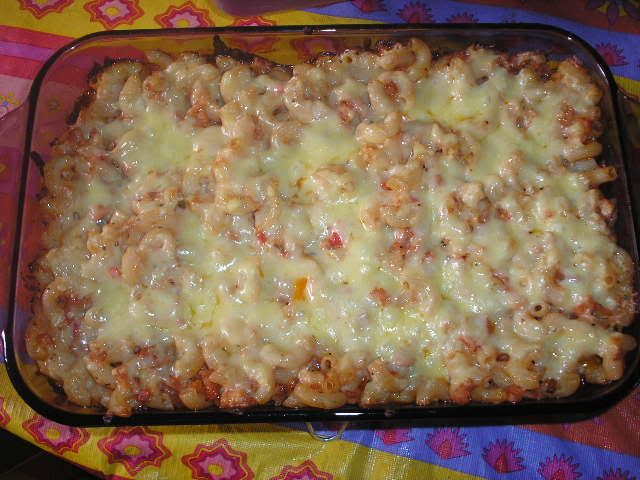 Ingredients :
450 gms
1/2 cup butter
1 tsp minced garlic
1/2 cup chopped onion
1/2 kilo ground chicken (but i always used pork)
1 cup ham, chopped
1/2 cup red bell peppers, chopped
2 cups tomato sauce
1/2 cup chicken or pork broth (depends on the ground meat you used)
1 tsp salt
3/4 cups pepper (if you are using Mc Cormick, assessed how much pepper you will be using )
2 tbsp sugar
1 cup quickmelt cheese, grated ( i sometimes add a bit more cheese)
How to cook :
1. Cook pasta according to the package directions
2. In a sauce pan, melt butter and saute the rest of the ingredients (except cheese). Allow mixture to simmer for 5 to 10 minutes.
3. Toss noodles with prepared sauce. Place in oven proof baking dish and sprinkle with grated cheese on top.
4. Bake at 180 degrees celsius preheated oven for 15 to 20 minutes or until cheese melts.
Source : back label of Magnolia quickmelt cheese. The label also contains recipe of Bacon Mushroom Melt and Baked Mussels.
Again, I saw this one from the YUMMY mag Sept 2007. That mag has a lot of recipe that I tried. If you really wanted a variety of food to cook or bake get the mag every month. Its worth every bucks!
Would I add that Anevay loves this also ? My daughter has been my gauged if I'm cooking or baking well. hahaha!